Dan Evans on British tennis: 'Rankings don't lie. There's way further to go' | Tennis News
Dan Evans has criticised the state of British tennis and believes Emma Raducanu's success has papered over the cracks.
There will only be three British players in the singles main draws at the French Open starting on Sunday and, for the first time since 2008, no women.
Of the 10 British players in qualifying, none made the final round, while 2021 US Open champion Raducanu joined Andy Murray in withdrawing having undergone surgery on both her wrists and one ankle.
Speaking ahead of his first-round clash at Roland Garros with Australia's Thanasi Kokkinakis, Evans said: "They've been lucky that they had a Grand Slam champion and she's a very good tennis player but the rankings don't lie, do they?
"Men's or women's, the rankings don't lie. Men's, not many of us playing qualys, not many main draw. I don't want to sound like a broken record. But there's way further to go than just the top players. It's from the bottom up.
"We're in a massive, massive habit of sending people to college now. I don't think that massively helps. It'll be interesting. I think the grass last year really helped paper over some cracks as well. After the grass, there will be a bit of soul-searching I imagine, after their holidays."
Evans has been a long-time critic of the domestic set-up and recently criticised some of his fellow British players for not competing enough and being willing to grind out life on the tour.
A late bloomer after serving a drugs ban and admitting to enjoying the party lifestyle too much, Evans knows well both the pitfalls and what it takes to achieve success.
The world No 24 said: "You've got to work hard. I know what it's like to not work hard and what you get from that and I know what it's like to work hard and get decent rewards.
"I'm not sitting here saying I know the answers. I have a fair idea of the answers and I would do it very differently to what's happening now I think. There's enough people playing junior tennis. We just don't help them."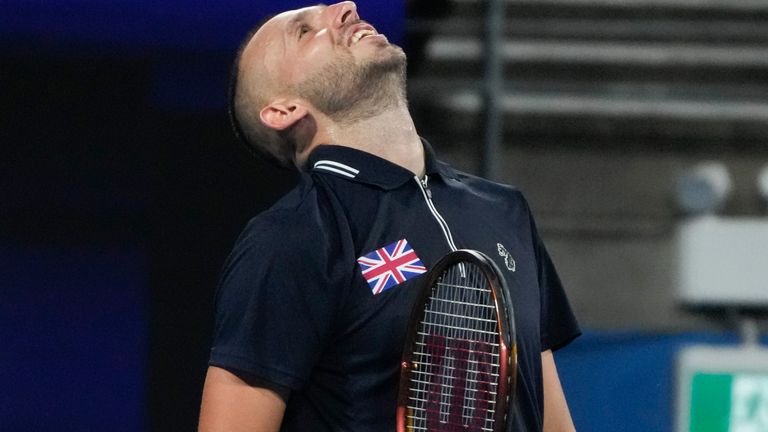 Evans is certainly an example of what can be achieved with hard work and the right attitude, and he will hope to continue his improvement on clay when he takes on Kokkinakis on Sunday.
The British No 2 has lost his last three matches but reached the semi-finals of clay tournaments in Marrakech and Barcelona.
He joked of his relationship with the surface: "We had a good week at the start, and then we've not been on talking terms really, sleeping in separate beds.
"No, it's been good. I feel comfortable. I've been playing good. It's probably helped having an Argentinian coach, little intricacies, which the British probably don't know because they're not so brought up on the clay."