Deyna Castellanos: Manchester City's new No 10 ready to take the Women's Super League by storm | Football News
"I'm expensive, you know," Deyna Castellanos jokingly remarked, before skipping off into the hustle and bustle of her first Manchester City media day to fulfil the remainder of her duties.
But there are no airs or graces about Castellanos. Her story is one of fight, perseverance and ultimately belief that an individual can do anything they set their mind to if offered the freedom to dream.
Castellanos is from humble beginnings. Growing up in Venezuela, opportunity was far less forthcoming for young girls and women, including her.
The forward, still only 23, was determined to break the restrictive mould from which she was unfairly cast from the minute she set foot on a muddied field in her hometown of Maracay.
"Queen Deyna" as she's affectionately known back home, has a vision that transcends far beyond the chalked white lines of a football pitch – rigid and uncompromising in their structure.
She wants to upset trends in order to affect meaningful change. It's a cause she holds dear to her heart.
"Coming from Venezuela where the opportunities are so low and it's so hard to find them, for me, trying to help little girls that want to play football is so important," she began.
"I want to change the mindset the Venezuelan culture has that football is not for girls. Breaking those stereotypes, for me is very important, but mainly it's for those girls who want to be here one day.
The 2022/23 WSL season kicks off in September.

"Trying to find them a better path, an easier path. Right now, that's why I want to change that. To help give people the opportunities that I've had.
"Becoming a student athlete in America really changed my life. It was one of the best decisions I ever took. I want to help my country, even just a little bit."
There's a confident conviction to Castellanos' delivery. Sat in the middle of a busy room full of media heads and flashing cameras, alien to the world she grew up in, the forward is calm and approachable.
Happy to speak about topics beyond on-pitch matters, Castellanos reveals her love for journalism by offering to swap roles and occupy the seat as interviewer for a brief moment.
"Coming from Venezuela, breaking stereotypes is something I've had to do my whole life. Breaking moulds, almost breaking everything. I will try to keep doing that.
Sue Smith discusses who she thinks will challenge for the Women's Super League title in the upcoming season.

"I really like journalism; I feel comfortable doing it. More in Spanish obviously. We can try?"
The offer was politely, yet reluctantly, declined before she sensed a window to elaborate: "Why not do it at the same time as playing football? I did it at the last World Cup. I did some commentary for Telemundo and that is something I am really passionate about."
Growing up on the north coast of South America presented its challenges for a young girl aspiring to be a professional footballer, but it also forged a yearning for improvement. That principle applies to Castellanos' personal ambitions as well as the societal changes she wants to enact in pursuit of opportunity for others.
Arriving at Sportcity on the outskirts of Manchester, where the Academy Ground lies adjacent to the towering surround of Manchester City's Etihad Stadium, Castellanos was struck by one thing in particular – the weather.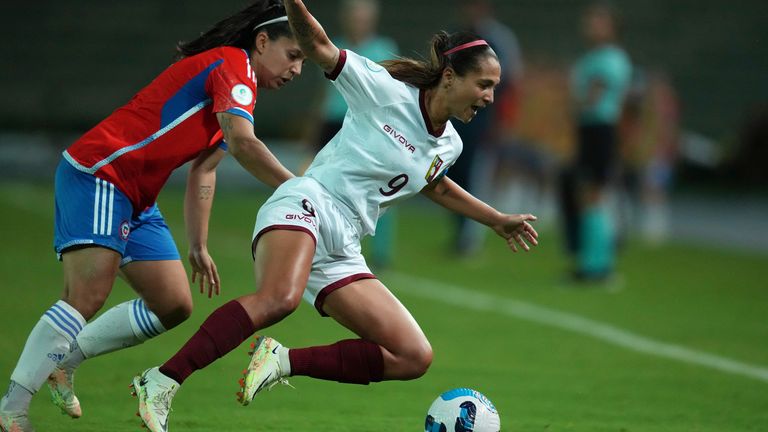 "I think it was the wrong impression because it was sunny," she jested. "I find it lovely. I'm loving being here right now, so I'm happy.
"It's very different. Spain is very sunny all the time and in Venezuela even more sunny. But sometimes getting out of your comfort zone makes the best version of yourself. We'll see if that happens.
"New challenges are why I'm here. But also Manchester City is one of the best clubs in the world. I wanted to play for one of the best. All the experiences I'm going to have here is going to make me a better player and a better person."
The vast expanse of City's infrastructure bathed in sunlight – a rare occurrence – was not the only thing that the Venezuelan international found oddly comforting.
Adjusting to European life has become the norm since her move to Atletico Madrid. Castellanos scored 23 goals in 58 appearances during a two-and-a-half season stint in the Spanish capital, where she won the 2021 Spanish Super Cup.
At Atleti, speaking in her native Spanish tongue was customary – a language very rarely spoken in northwest England. But that matters little to Castellanos who quickly learned that being bilingual would serve her well as she embarked upon her Manchester adventure.
Understanding the array of accents, however, may take a little more fine-tuning.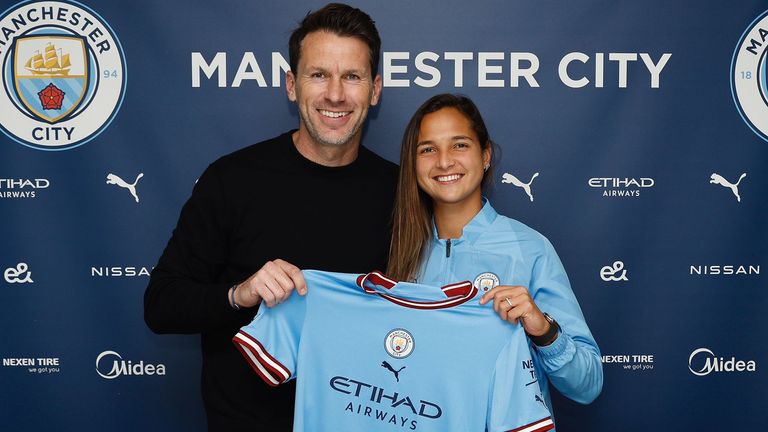 "Usually, I don't understand when they are talking, because of the accent. But I'll get there," she continued, with a wry smile.
"I feel very welcome. That's something that my teammates and coaching staff have done very well. I don't think I've fully adapted yet to the rhythm of the league.
"Also to the style of football right now we are playing. I know when the league starts, I'll be ready. With the system, I need to get used to it, what the coach wants and know my teammates better so they can make me a better player."
A rising star of the women's game, Castellanos had caught the eye of Women's Super League suitors before.
She shone as a teenager and was on a three-person shortlist – along with Carli Lloyd and Lieke Mertens – for the FIFA Best Women's Player of the Year award in 2017 at the age of just 18.
The spotlight prompted an approach from reigning WSL champions Chelsea – a time she remembers vividly.
Manchester City women head coach Gareth Taylor looks ahead to the new WSL season and says he is happy with his squad despite losing some experienced players.

"I wasn't ready to come to England yet. For me, I thought it wasn't a smart decision.
"In this league that is so fast and so different, but now I feel ready. I've had experience in Spain which was the perfect place to learn about European life. I learnt how to become a professional player. That's now why I am here.
"I'm very happy to be here right now. I'm expecting a lot from this team. I want to win a lot of titles here, that's also why I came. It's possible to do that."
The chat ended on an aspirational note – the same way it began. Castellanos recalls a particularly exhilarating time in her then-fledgling career after being named on FIFA's prestigious 'Best' list.
The nomination was met with some controversy, given the teenager was yet to turn pro, at the time playing for her collegiate side in Louisville, Kentucky.
Employing her infectious 'glass half full' mentality, Queen Deyna took it all in her stride.
Catch all the drama from the WSL as they kick off on the 10th September, live on Sky Sports.

"I was in Louisville when I first heard about the nomination. I was with my team, we were playing an away game. I was about to get breakfast and I saw the list and I was like 'what is going on?'
"A couple of weeks later the shortlist got published, the last three players, and I was in the physio room getting my ankles taped but I just started running around the room.
"It was for sure my best moment as a football player. I hope I can repeat that because this is just the start.
"I understood why it was a little bit controversial because I wasn't a professional football player. But I think women's football is so much different to men's football.
"I feel like you have to support every girl because we are all fighting for the same goal. But I understood. I was very happy, more happy than anything else. If I was named it was because of something good I did."
Castellanos' City career gets under way in earnest when facing Aston Villa this weekend, a week later than originally planned following the passing of Her Majesty the Queen, and if her performances can match her already impressive résumé the WSL has unveiled a true star in the making.
How to follow the 2022/23 WSL season on Sky Sports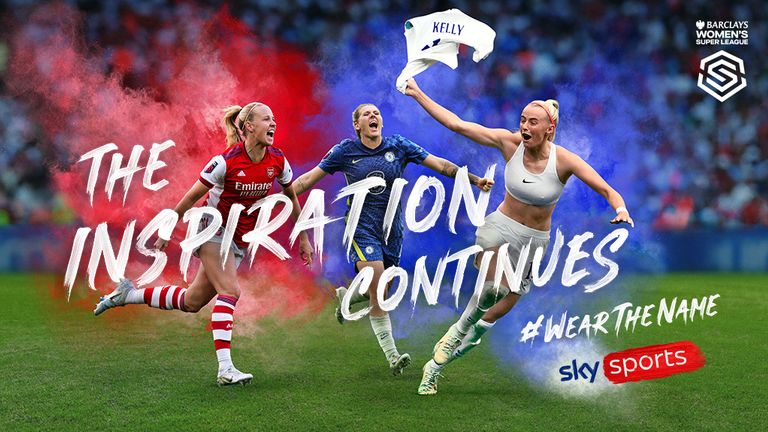 Sky Sports – All 35 games will be available across Sky Sports' flagship channels, including Sky Sports Premier League, Sky Sports Football and Sky Sports Main Event.
Sky Sports News – Running 24 hours a day, seven days a week, Barclays FA WSL fans can enjoy Sky Sports News (channel 409) rolling editorial coverage of the league and its storylines throughout the season.
Inside the WSL – Hosted by award-winning broadcaster and journalist Jessica Creighton, Inside the WSL is a comprehensive round-up of all things Barclays FA Women's Super League and women's football. Airing weekly on Sky Sports Premier League, the half-an-hour show will review and preview matches, including in-depth analysis and exclusive player interviews. Viewers can expect gripping behind-the-scenes access as well as a summary of all the action both on and off the pitch.
Sky Sports Social – Alongside coverage and visibility for the league across all Sky Sports' main social media channels, the bespoke Twitter channel @SkySportsWSL will continue to be the home of all Barclays FA WSL content on Sky Sports.
Sky Showcase – All Sky customers will benefit from being able to watch the opening weekend fixtures on Sky Showcase (channel 106) without a Sky Sports subscription. This channel is designed to curate some of the top shows, films and sports from across Sky's channels.
Sky Sports digital – Follow all the latest from the WSL across SkySports.com and app, including exclusive features and interviews, plus dedicated live blog coverage and in-game clips from games live on Sky Sports. You can watch free match highlights from every WSL game this season on Sky Sports' digital platforms and YouTube channel.
To add all the Barclays FA WSL fixtures to your calendar click here.
To download the Sky Sports app click here, to visit Sky Sports website click here.